Trophy Homes in Great Heritage Style
Table of Contents
[Previous Post: Three Federation Beauties …. Next Post: ]
A Big Trophy, yet to be 'bagged' – 'Elaine', (or 'Elaine Gardens') in Point Piper NSW, owned by the Fairfax family (and still for sale at $80m)
Trophy Property:
The finest homes including luxury real estate not yet on the market, homes with water views, properties with acreage and estates – www.trophyhomes.com/
A trophy property is a real estate term for the top 2% of properties in a given (sub)category, though the term typically refers to residences, architecturally or historically preserved properties, high-amenity natural land and properties with spectacular views, or other extraordinary amenities – Wikipedia
Listed Architecturally, then by value
---
The heritage listed Buderim House circa 1913 at 10 Orme Road , Buderim.
---
Trophy 1:
---
Glyn House, 224 Kooyong Road Toorak, Vic 3142
---
In 1905, Sir Edward Miller MLA, the new owner of Glyn (cottage), commissioned architect Rodney Alsop to design a new house on the site of Glyn.
The new Edwardian mansion also named Glyn (224 Kooyong Rd), was completed in 1908 and is on the Victorian Heritage Register.
Glyn is of national significance and is one of the most important surviving Arts & Crafts mansions.
Although the pebble-dash, highly textured stucco walls with quartz river pebbles on an orchre colored cement background have been painted, the massive roofs, huge bays, and detailed Australiana decoration in the main, stair & entrance halls and upstairs gallery of eucalypt foliage are still a feature.
The Arts & Crafts movement in Australia encouraged the use of Australian materials and motifs reflecting burgeoning nationalism around the time of Federation.[1]
"Toorak's 1908 trophy home Glyn sold"
Toorak's 1908 trophy home Glyn sold
Toorak's 1908 trophy home Glyn sold
Corporate adviser, Jane Stuchberry has sold her restored six bedroom 1908 Toorak mansion, Glyn.
It was listed with $12 million plus hopes in May.
It was designed by architect Rodney Alsop in the arts and crafts style with gabled roofs, prominent eaves and artisan features.
There's ornate timberwork with Australian native flora motifs in the Kooyong Road home built for Sir Edward Miller, who was a founding shareholder in BHP.
Set on 2420 square metres of gardens, now with a tennis court and heated pool, Glyn was been offered through Kay & Burton agents Darren Lewenberg and Ross Savas.
From Domain.com
"Our cover house Glyn was designed by acclaimed architect Rodney Alsop at the leading edge of the arts and crafts movement which, from the late 1800s, produced –
a Gothic style of home with gabled roofs, prominent eaves,
lots of windows, wide open spaces and artisan features."
Glyn House, 224 Kooyong Rd, Toorak, Victoria: One of the most magnificent examples in Australia of the arts and crafts movement. Photo: Domain.com.au
Back then, it was a statement of wealth and prestige for its first owner, financier and politician Sir Edward Miller.
Today, after a painstaking 12-year renovation and restoration that Stuchberry began as soon as she bought the six-bedroom, five-bathroom home, it's one of the finest examples of the style that still stands in Australia.

"With its timeless lustre and National Trust Heritage Overlay, this vintage home brimmed with the potential for a new life as a regal gem. Start with a blank canvas, make sparing structural changes, furnish with custom European wares and stylish objects, and you'll give a classic the revitalisation it deserves.
Jane's vision entailed a master ensuite bathroom conversion, a second ensuite bathroom conversion, the creation of a master walk-in dressing room, and the furnishing and decorating of the master bedroom." (Read more…)
"Glyn is a beautiful house and I think the owners must have spared no expense in its restoration," says Harriet Edquist, professor of architectural history in the School of Architecture and Design at RMIT University, and an expert in the arts and crafts movement.
"Most of these houses were built with 360-degree views, mainly so that every elevation was different. They're also designed on the diagonal, so you can walk through the hallway into the living areas which are all very large and open.
They look very modern and they're all about sunshine and light, incredibly well planned and beautifully detailed, but without any extraneous ornamentation like arches."
Glyn House, 224 Kooyong Rd, Toorak, Victoria: Beautifully restored to its original glory. Photo domain.com
Some of the best-known architects of the arts and crafts movement in Australia include Walter Butler, Harold Desbrowe-Annear, Walter Liberty Vernon, Robin Dods, Horbury Hunt, Robert Haddon and Alsop.
Homes of this style were built generally in pockets of Melbourne, around Toorak, Kew, Malvern, Armadale and Camberwell, in areas of Sydney like the eastern suburbs, the North Shore and the Blue Mountains, and in a few neighbourhoods in Canberra and Brisbane.
extracted from Arts of living: Arts and craft houses having their time in the sun
Author May 20, 2016 Sue Williams Domain Reporter
Trophy 2:
---
Leura, 24 Victoria Road, Bellevue Hill NSW
---
Chinese businessman and keen yachtie Wilson Lee and his wife Baoyu Wu have emerged as the buyers of the Bellevue Hill trophy Leura home.
Located on Victoria Road, it sold for $30.8 million a year ago on delayed settlement terms through Ray White Double Bay's Michael Finger.
Leura, Bellevue Hill trophy home sold for $30.8 million
"One of Sydney's grandest estates, Leura c1891 is a landmark residence embraced by 4,260sqm of established grounds and is a monument to the Federation Queen Anne style of architecture from the era. Set against a breathtaking panorama over Sydney Harbour the home has been intuitively crafted to create a resort-style sanctuary with a magical sense of privacy and seclusion at the very end of an exclusive circular driveway."
Leura, Bellevue Hill trophy home sold for $30.8 million
Chinese businessman and keen yachtie Wilson Lee and his wife Baoyu Wu have emerged as the buyers of the Bellevue Hill trophy Leura home.
Located on Victoria Road, it sold for $30.8 million a year ago on delayed settlement terms through Ray White Double Bay's Michael Finger.
The property was built for the Knox family in the 1890s.
It was last traded in 1986 to Ken and Christine Allen for $7.3 million after its restoration by property developer Bill Shipton.

Lee is chief of Noah Group, a Chinese wealth manager, however locally he is well known for his super yacth Ark 323.
It came from Shanghai's Noah Sailing Club last year as the first all-Chinese crew to compete in the Sydney to Hobart Yacht Race.
Bellevue Hill trophy home Leura sets suburb record at $30 million
Nov 10, 2015 Lucy Macken Domain Prestige ReporterThe Bellevue Hill trophy residence Leura sold on Monday afternoon for more than $30 million, setting a suburb record in the process.
The sale by businessman Ken Allen and his wife, Christine, to an Australian buyer came the day before it was scheduled to go to auction, and for in excess of its original $30 million guide.
Built in the 1890s for Tom Knox, managing director of the Dalgety stock and station agency, in the Federation Queen Anne style and set on a vast 4260 square metres, the mansion includes eight bedrooms, eight bathrooms, a ballroom, tennis court and a swimming pool.
The Bellevue Hill heritage mansion Leura has sold for more than $30 million. Photo: Supplied
The Federation house was sold by New Zealand businessman Ken Allen. Photo: Supplied
In the 1950s it was owned by Cranbrook School and used as a boarding house until 1979 when it was sold to businessman Lionel Levy for $389,000. It was restored and renovated in 1985 by property developer Bill Shipton, who then sold it in 1986 to the Allens for $7.3 million.
---
Trophy 3:
---
Balmoral House, 17 Balmoral Avenue Mosman NSW
---
Historic Balmoral House, Mosman, sold
Historic Arts and Crafts style Balmoral House, Mosman, sold
Sydney has seen the first double digit sale of the year, with the historic Balmoral House in Mosman selling for around $10.3 million.
It was sold by Barclays Global's former senior executive Bruce Goddard and his wife Vanessa, who paid $4.25 million for the sandstone home in 2001.
They bought the home from ad man Wayne Kingston and wife Annalisa, who bought it from publican Peter Bunting and wife Chez for $3.4 million in 1996.
The home was modelled on the villas of the Italian Riviera when built in 1908. It has undergone extensive conservation and renovation works to maintain its period touches.
Offering panoramic views over Balmoral Beach to Manly and North Head, the five bedroom home on 903 sqm features a home office and a wine cellar.
A swimming pool sits in level gardens.
LJ Hooker Mosman agents Geoff Smith and Charlie Biddulph sold the home.
It had been listed late last year with $12 million plus price hopes.
---
Trophy 4:
---
Harleston Firs, (Circa 1905) 10 Manning Road, Malvern East VIC 3145
Harleston Firs, East Malvern listed
Federation Queen Anne style Harleston Firs, East Malvern
A record $8 million is expected for the Malvern East property once owned by Little River Band guitarist songwriter Beeb Birtles.
It was sold by the singer's Broke Again Productions Pty Ltd for $1,265,000 in 1991 to the current vendors.
The 10 Manning Road property sits in the tree-lined Gascoigne Estate.
Harleston Firs, built in 1905, is a red-brick Victorian with five bedrooms, a study, billiard room, music room and triple garage.
Birtles restored and extended it more than 30 years ago.
Manning Road's tree lined boulevard is the ideal backdrop for Harleston Firs, an illustrious mansion notable for its distinctive Victorian, Edwardian and Art Nouveau architectural features and beautiful garden setting with a swimming pool and pool house set on 1410 sqm approx. with a second frontage to Turner Street.
Stately, elegant and majestic, the interiors have been painstakingly restored to their original beauty and honoured with a seamless architect designed extension in 2004 to create a residence that is both grand and family friendly.
Distinctive period features unite the home from the tallest of ceilings soaring to four metres downstairs with elaborate cornice work to beautiful stained glass windows, superb hand carved timber staircases, marble fireplace mantles, antique light fittings and the distinctive features of a tessellated tiled conservatory leading off the grand reception rooms and a turret with light towers above the rear staircase.
The exceptional scale of the floorplan allows for multiple living and entertaining zones including expansive family room and separate informal dining room all of which are perfectly complemented by a well appointed granite kitchen with comprehensive cabinetry, Miele oven and integrated dishwasher.
Upstairs, five luxuriously large fitted bedrooms include the palatial main bedroom with private balcony and en suite, second en suited bedroom with balcony and grand main spa bathroom.
A voluminous rumpus room or home theatre features vaulted timber ceilings with exposed trusses.
The beautiful grounds are wed together with expanses of herringbone paving that lead through to the broad terraces surrounding the 16.5 metre mosaic tiled gas heated swimming pool. A built-in BBQ with gas supply and pool house with kitchenette and additional bathroom sit beautifully within the entertaining space.
Harleston Firs has been showcased in the Period Home Renovator and The Australian Design Series.
Despite its heritage, the home is comprehensively appointed for modern, family living with a refined study off the foyer, huge modern walk-in cellar, hydronic heating, air conditioning, extensive security with CCTV and monitored alarm, home automation, Commander phone system, Foxtel, wireless internet, two powder rooms, remote gates to off street parking and additional remote gates on Turner Street leading to a four car remote garage.
---
Trophy 5:
---
3 Illawarra Crescent, Toorak VIC
The $8m Arts and Crafts (half-timbered) Toorak property is situated at the end of a prestigious cul de sac and is a Robert Hamilton designed c1920 English style residence
Guide: $8 million +, Expressions of interest – 5 bed 5 bath 4 car pool
Built by architect Robert Hamilton, Victoria's foremost practitioner of the inter-war Old English/Tudor Revival style during the 1930s, this property sits at the end of a prestigious cul-de-sac and is surrounded by well-established manicured gardens.
You'll find dark timber floors through the reception hall, an impressive sitting room with a decorative open fireplace and a formal dining room and music room with original timber joinery.
"It's a very stately home," says agent Marcus Chiminello. "There are not many of these homes left so there's a scarcity value to the period style residences now, particularly in Toorak."
Trophy 6:
---
Kumdibar (1898) 62 Braeside Street, Wahroonga NSW
---
'Kumdibar' 1898 Federation splendor
A magnificent home of gracious proportions, Kumdibar (1898) is a breathtakingly beautiful example of early Federation architecture lovingly revived to its former grandeur.
Historic Federation trophy home Kumdibar at Wahroonga listed
Proudly set on one of Wahroonga's most distinguished tree-lined boulevards, the stately residence is nestled among 2,934 square metres (approximately) of impeccably manicured formal grounds, complete with a tennis court and pool.
The home contains five bedrooms and three tasteful stone bathrooms, the main with a spa bath, including an expansive master wing encompassing a travertine ensuite and a dressing area.
Offering the ambience, privacy and scale of an idyllic rural retreat.
Kumdibar is a property of both historical significance and enormous appeal
Property Observer STAFF REPORTER | 6 FEBRUARY 2017
Historic Federation trophy home Kumdibar at Wahroonga listed
The Federation Wahroonga trophy home, Kumdibar, set on 2,934 square metres, has been listed for sale with $7.5 million plus hopes.
Built in 1898, the five bedroom home at 62 Braeside Street, Wahroonga has three stone bathrooms, a master with ensuite and a flexible study on each level.
There's also a games room above the double garage with a king-sized billiard table and overhead lights as well as a tennis court and swimming pool.
The stately, manicured home has been listed for expression of interest by Darren Curtis and Carys Adams of Ken Jacobs, Christie's International Real Estate, Double Bay.
Trophy 7:
Harelands, 5 Willsmere Road, Kew, VIC
Early 1900s Harelands, Kew for spring sale
Early 1900s Harelands, Kew for spring sale
The early 1900s Kew property, Harelands has been listed through RT Edgar with $7 million-plus expectations.
The 11 bedroom, six bathroom trophy home at 5 Willsmere Road has been impressing since its 1913 Home & Garden Beautiful magazine feature showcasing beautiful homes and gardens
The Melbourne Queen Anne house was designed by the leading architectural firm of Ussher and Kemp for W.H. Davies.
While previously known as Blamey House, it lost its lustre as a Legacy hostel from the 1950s to the 1980s, but it has been restored over the past three decades.
It last sold at $539,000 in 1985.
11 bedrooms, 6 bathrooms, 4 parking
This grand 11-bedroom mansion was originally designed by leading architectural firm Ussher and Kemp, built around 1903 for a family with four sons and was, in the 1950s, taken over by Melbourne Legacy as a children's hostel.
Saved from developers in the 1980s, it has since been meticulously restored and used as a home, and a surgery, by its doctor owner. "It's big but very flexible," says RT Edgar agent Warwick Anderson.
Entry is via a stunning reception hall, and there are soaring ceilings, solid oak cabinetry and a sweeping staircase to the upper level with views to the Northern Ranges. A veranda runs around the house, and there's also a separate two-bedroom cottage in the grounds.
Private Treaty – Sale Notice and photos
Trophy 8:
Heatherlie Mansion, 116 High Street North Sydney NSW
Heatherlie mansion in North Sydney listed with $6,888,000 price tag
Heatherlie mansion in North Sydney listed with $6,888,000 price tag
A North Sydney Federation Queen Anne mansion has been listed for sale with a price tag of $6,888,000.
The five bedroom, four bathroom house known as 'Heatherlie' has secure parking for three cars and features wrap around balconies.
Sandstone entrance leads to the house and its library, rumpus room and media room, atrium glass ceilings and views of Sydney Harbour and Fort Denison.
"Interesting and visually prominent example of style based around essentially late nineteenth century form. Major streetscape item and commands extensive views."
Enter via secure sandstone entrance and be impressed with the size and flexibility of this thoughtfully renovated and tightly held Victorian home of grand scale. Wrap around balconies capturing water views across Careening Cove and Sydney Harbour's Fort Dennison.
Maintaining all the charm and ambience of the era, "Heatherlie" offers high ceilings, leadlight windows, and flexible modern family living across multiple levels with Library, rumpus, plus media or 6th bedroom.
Formal living, separate formal dining and music room, both with original cast iron open fireplaces.
Trophy 9:
---
Sentosa, 650 Sandy Bay Rd, Sandy Bay TAS
---
Snappy sale for Tasmanian mansion Sentosa
Snappy sale for Tasmanian mansion Sentosa
Sentosa, a 100 year old Hobart waterfront arts and crafts house, has been snappily sold having come with $6.5 million hopes through Knight Frank agent Mathew Chugg.
It was sold by Wendy and Barry Turnbull who paid $815,000 for the home in 1993.
The 1917 home designed by Marco Linardi sits amid 2309 sqm of Paul Bangay-designed gardens on Blinking Billy Point.
The grounds meander down to the water with a lawn overlooking Long Beach.
Not heritage listed on the Tasmanian Heritage Register, but data sheet collected by Local Government Authority.
Located in a very prominent site on Blinking Billy Point almost at the waters edge, Sentosa has landmark qualities and articulates strongly to the river.
It is surrounded by a paling fence and has no visual link with Sandy Bay Rd . Historical Relationship: The house reflects the growth of the Long Beach area in the first two decades of the twentieth century.
The property has been subdivided in the past twenty years. Description: A fine one and a half storey arts and crafts house of rendered brick with long tiled gabled roofs projecting to each elevation, roughcast chimneys with terracotta pots.
Various gables are roughcast or clad with shingles. The riverside gable features an oriel window surmounted by a small vent.
There are flush casement windows in other gables and a dormer to the northern elevation. The house has triple casement windows with toplights and a partially enclosed verandah to the river frontage. It is located in extensive grounds with several mature pines..
Sale and photos
Sentosa, 650 Sandy Bay Rd, Sandy Bay TAS
The home spanning 693 sqm has five bedrooms, including two on the fully self-contained first floor that also comprises a lounge, kitchen and bathroom.
Dining room at Sentosa, 650 Sandy Bay Rd, Sandy Bay TAS
The master suite with separate dressing room overlooks the river and there's a 15 metre indoor pool in a conservatory inspired room.
The ground floor features a grand dining room, lounge and stately staircase crafted from Huon pine with bespoke iron balustrades.
Early Australian aviator Charles Kingsford Smith visited when he honeymooned in Hobart with his second wife Mary in 1931.
Entrance to Sentosa, 650 Sandy Bay Rd, Sandy Bay TAS
---
Trophy 10:
---
Buderim House 10 Orme Road, Buderim QLD
---
Heritage 1913 Buderim house listed
When the Duke of Gloucester paid a visit to Queensland as part of his 1934 Australian tour, he was a guest at Buderim House, a grand Queenslander set amid 6315 square metres of sub-tropical gardens and sweeping lawns.
"These sorts of homes aren't being built today, the cost of them, with the labour content is just too prohibitive."Lew Pottinger, Ray White Buderim
Built circa 1913, the home is brimming with period appeal, from the grand entrance to the handsome fireplaces, VJ walls, fretwork, ornate plasterwork, extensive lead-lighting, 3.5-metre high ceilings and timber joinery milled from the property.
Buderim House was built c1915 for Herbert Victor Fielding, son of pioneer Buderim sugar planter, mill owner and fruit grower John Fielding, who in 1876 selected nearly 49 hectares on the northern slopes of Buderim Mountain.
Heritage 1913 Buderim house listed
The heritage listed Buderim House at 10 Orme Road remains listed for sale.
The five-bedroom, four-bathroom Queenslander sits on 6,315 square metres of luxuriant sub-tropical gardens and sweeping lawns designed by award winning landscaped architects.
The property underwent an architecturally designed extension in 2003 and features built-in silky oak cabinetry, a games room with a custom-designed built-in bar and commercial wine fridge, an expansive wrap-around verandah and a resort-style pool and spa.
Last traded for $530,000 in 1997, the home maintains its heritage with Blackbutt timber floors, casement windows, limestone floors, French doors and Norfolk Island timber joinery milled from the property.
Grand Homestead on Mountain Top Acreage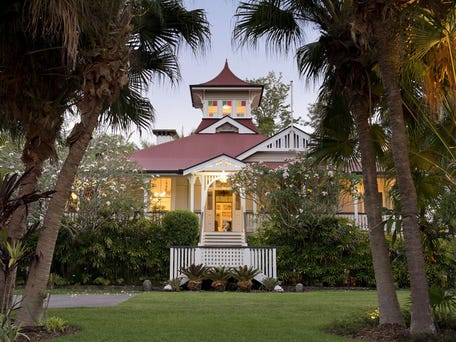 Buderim, 10 Orme Road, Buderim
Undeniably, "Buderim House" is one of the most admired Buderim properties. This grand Queenslander sits stately on the highest level acreage (6,315 square metres) in one of Buderim's most appealing tree lined streets.
Luxuriant sub-tropical gardens and sweeping lawns are designed to frame the exquisite proportions of the home and provide privacy, space and scale. Offering a lifestyle that's unequalled on the Sunshine Coast.
"Buderim House" showcases the very finest of Buderim living, embodying a colourful history, stunning views, magnificent gardens, and exceptional elegance and grace; whilst still functioning as a welcoming family home that seamlessly blends its character and tradition with the comforts of superior contemporary living.
Circa 1913, the home's grandeur and savoir vivre still shines brightly; there is nothing comparable on the Sunshine Coast for pure old-world majesty and refinement, it truly stands alone. Heritage listed, it is the one of the areas most significant homes, with a commanding presence and timeless appeal.
Trophy 11:
---
Zermatt, (c1914) 16 Tower Street Surrey Hills, VIC
---
Poised on one of Melbourne's highest points, "Zermatt" (c1914) is arguably one of the area's finest homes and offers the ultimate entertainer's lifestyle amidst resort-style tennis court and pool.
Architecturally transformed in the contemporary chalet-style, the 5 bedroom/4 bathroom floorplan is unswerving in its approach to space, luxury and style.
It's clear every detail is crafted without compromise throughout a sequence of expansive living areas all with amazing northern views to the distant ranges. For all generations, across every season, this home will impress with fine Oak, granite and market-leading appointment highlighting refined and relaxed areas,
Two studies, stunning cathedral ceiling teen/games room (bar), home-theatre, connoisseurs kitchen/butler's pantry with a servery to a al fresco kitchen and night-lit terraces for relaxing pool/spa and courtside. This unique home's crowning glory is an exciting rooftop terrace with spectacular views of Melbourne's skyline.
NOT Heritage Registered
Surrey Hills, Melbourne trophy home Zermatt sold
Surrey Hills, Melbourne trophy home Zermatt sold
Melbourne's five bedroom Arts and Crafts trophy home Zermatt, in Surrey Hills Victoria, has sold for $5,655,000 at private auction.
The home, 16 Tower St Surrey Hills, was built in 1914 and features northern views to the ranges, a resort-style tennis court and pool over 1515sqm.
It also features two study areas, a games room with cathedral ceilings, butler's pantry and rooftop terrace.
It sold through Kay & Burton's Judy Balloch and Scott Patterson – Gallery of photographs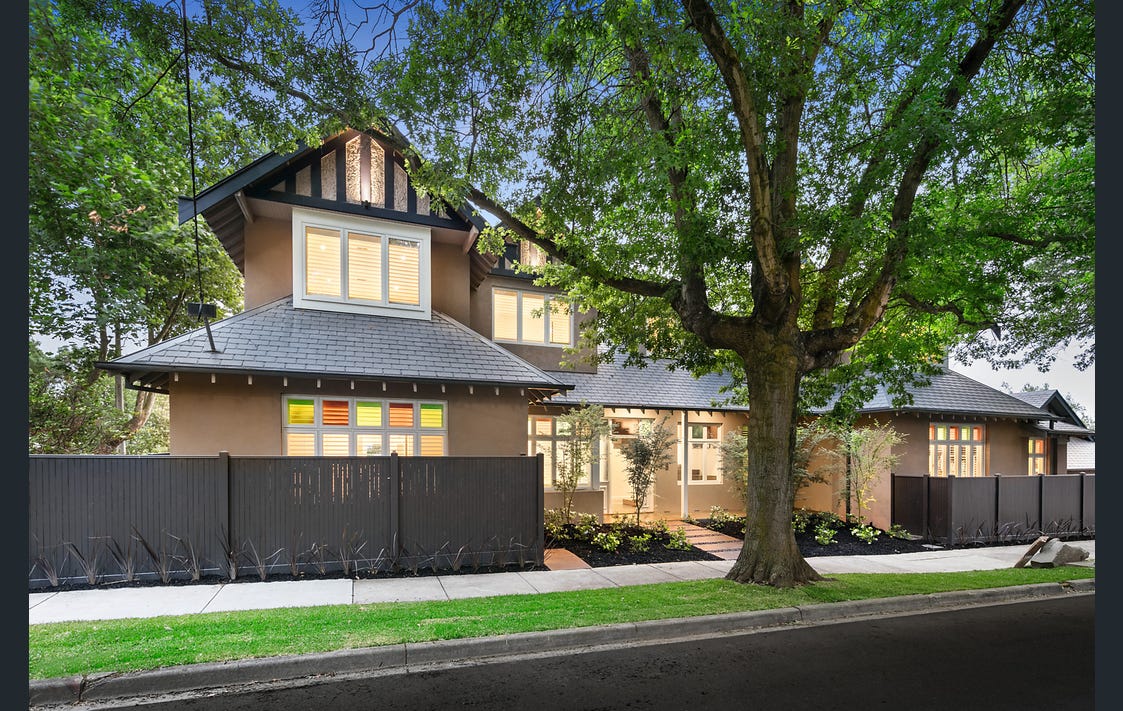 Zermatt, 16 Tower Street Surrey Hills, Vic 3127
Trophy 12:
---
Poitiers, 66 Springdale Road Killara, NSW
---
Historically significant and in grand proportions, 'Poitiers' is an iconic Federation style Killara estate over a magnificent 1,906m2 site with a wide 35m frontage.
Built in 1904, it was once the home of Bert Oldfield for which the nearby ovals have been named."
Historical 1904 Killara home, Poitiers, sold for $5.45 million
Historical 1904 Killara home, Poitiers, sold for $5.45 million
A historical 1904 Killara trophy home has been sold for $5.45 million, the most expensive result across Sydney over the (11 Mar 2017) weekend.
Located at 66 Springdale Road, the north facing Poitiers was marketed as an iconic Killara estate.
The home has just hit the market with a price guide of $4.9 million to $5.3 million.
Sitting on 1,906 sqm with 35 metres frontage, it was once home to Bert Oldfield, the famous test cricketer.
Poitiers, at 66 Springdale Rd, was owned by Bert Oldfield and his wife Ruth for 47 years, before they sold it to the current owners John and Patricia Mortlock, the parents of former Australian Wallabies captain Stirling Mortlock. The Mortlock family purchased Poitiers from the Oldfield family in 1976 for $127,000.
The Oldfields, who were the third owners of the home, bought it from Sydney socialite Paul Dekyvere in 1931.
Featuring timber joinery, ceilings and original fireplaces it also has a ballroom-sized formal lounge, music area and large formal dining.
The property has been improved over the years including a gourmet kitchen with stone and timber benchtops, appliances and an adjoining dining area along with an alfresco terrace that overlooks a 14 meter sandstone clad pool.
Four bedrooms have been positioned in their own private wings, all with built-in wardrobes while the master has a large ensuite and dressing room.
Other features includes timber flooring, study, home office or fifth bedroom, lawn areas and a large double lockup garage with adjoining workshop.
---
Trophy 13:
---
Gowrie, 10 Ardmillan Road Moonee Ponds, Vic 3039
---
Gowrie, Moonee Ponds trophy home listed
Gowrie, Moonee Ponds trophy home listed
Gowrie, a Moonee Ponds trophy home, has been listed for sale with $4 million plus expectations.
Gowrie sits on a 1525 square metre Ardmillan Road block.
It is a showpiece Edwardian residence, rich in 1920s period detail.
There's four bedrooms, two living zones and two dining areas.
Nelson Alexander's Jon McKenna and Mark Britt are marketing 10 Ardmillan Road which comes with a large rear garden with pool.
Gowrie, a Moonee Ponds trophy home
The home was owned by football champion Wayne Carey when sold at a record $1.15 million in 1999. It traded at $620,000 in 1995.
The Kangaroos captain owned elsewhere on Ardmillan Road selling in 2000 for $530,000 having bought for $420,000 a year earlier.
A similar heritage property recently listed is Netherfield, Camberwell's prestigious estate (Victoria)
---
Trophy 14:
---
10-12 SOMME Avenue Frankston, Vic 3199
---
Edna Walling inspired Frankston property still on the market
Edna Walling inspired Frankston property still on the market
An Edna Walling inspired property in Frankston remains listed for sale. It was initially listed in May with $3.5 million to $4 million price guidance.
Located at 10-12 Somme Avenue, the house combines 1920s architecture and modern designs.
Sitting on 3,070 square metres of land, the four-bedroom, two-bathroom house comes with hydronic heating.
The property is offered by Terry Sparks at T.J Sparks in Mount Eliza. It last sold in 1989 for $850,000 for 10 Somme Avenue and $330,000 for 12 Somme Avenue.
Crowning the clifftop with spectacular uninterrupted panoramic bay views, this remarkable estate set on Edna Walling inspired 3070sqm (approx.) grounds combines illustrious Arts and Crafts 1920s architecture with newly renovated spaces.
Dramatic sunsets and postcard views that stretch across the pristine sand, the long lines of Frankston Pier and across the brilliant blue sea to the city skyline and Bellarine Peninsula are framed at every turn against a backdrop of elegant architectural detail and an array of beautifully curving balconies and alfresco entertaining areas.
The clean lines of the voluminous open-plan living and dining area each with walls of bi-fold doors to the garden surrounds complement richly authentic formal living and dining rooms positioned front and centre to the view.
The sleek streamlined "polyform" kitchen with feature island bench is designed for entertaining with servery windows to the garden, the full complement of Miele appliances including a coffee machine and butler's pantry.
---
Trophy 15:
---
22 Parry Street Claremont WA 6010
---
Elegant 1913 Claremont home for sale
Elegant 1913 Claremont home for sale
A 1913 home at Claremont is up for sale.
Located at 22 Parry Street, the property has Federation Queen Anne architectural features.
From its 1300 sqm position on Claremont Hill it has views towards the hills from the upper level. It last sold in 1995 at $888,000.
The Claremont Quarter, Swanbourne and the Swan River foreshore is within walking distance with Cottesloe and Swanbourne beaches just minutes away.
Modern renovations blend with its original character which includes high ceilings, wraparound verandahs, intricate ceiling roses, arched hallways and polished jarrah floors.
The contemporary open plan spaces features honed granite, marble and stainless steel in the five bedroom, four bathroom house.
The gardens are filled with winding paths, roses, north facing olive grove, rolling lawns.
There are secret hideaways under the shade of an ancient tree plus a swimming pool with entertaining terrace.
It comes with a self contained garden studio.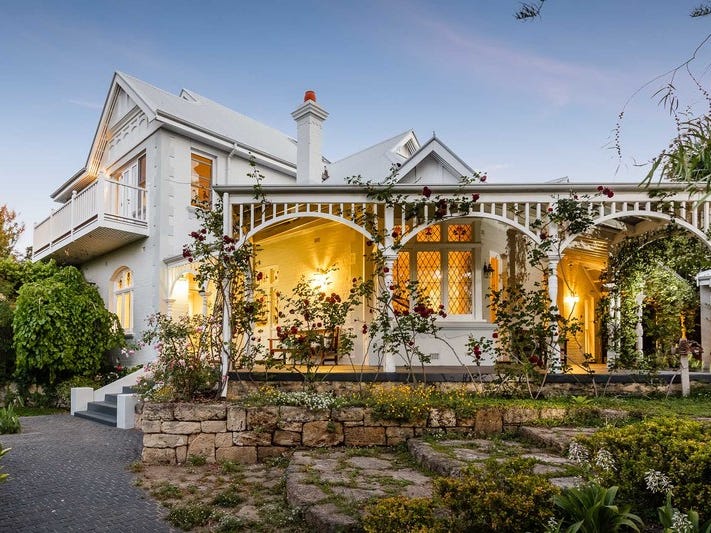 22 Parry Street, Claremont
---
References
---
---